Community Outreach
DEPC COMMUNITY OUTREACH EVENTS FOR 2019-2020
GOBBLE HOBBLE on Nov. 23 @ 8:00 am in Richardson benefitting Boys & Girls Clubs
TOYS FOR TOTS in Dec. (collection of gifts and money, delivery) benefitting CASA. Collection Box will be available at November and December mtgs.
Stuffing BACKPACKS for High School Senior going to College (April 2020), benefitting under-served communities in the Greater Dallas area
Join the Richardson Gobble Hobble in celebrating the Thanksgiving season! Whether you are a local runner or walker, this event offers family friendly races including a 1-mile Fun Run, a 5k (3.1 miles), and a 10k (6.2 miles)……….. November 23rd 8:00 a.m.- 12 p.m.
Sign up on Website: https://runsignup.com/Race/TX/Richardson/GobbleHobbleRichardson
$15-$45 entrance fee, depending upon race entered. Bring your family, friend, or just yourself!
Location: 2351 Performance Drive, Richardson TX 75082 (Eisemann Center Plaza, Galatyn Park area)
If not a runner/walker, volunteers are needed to assist at the registration table, water/cheering stations, course marshals, handing out medals at the finish line, and event clean up. If interested in volunteering, please call Tiffany Nicholas at (469) 995-1328, or email: tthomps3@gmail.com
If you are running, packet pick-up will be at Fitness Together, 208 W Campbell Rd, Richardson 75080, on Wed. 11/20 and Thurs. 11/21 from 11 am – 7 pm.
If you sign up for the Race or volunteer, please let Teresa Moore (dallasepc@yahoo.com) know so we have a DEPC headcount. Contact Carla Gale (214) 220-6176 or Laura Brown (214) 520-4763 if you have questions or need more information.
A recent Community Outreach volunteer event - the residents of The Madison on Marsh and Diversicare of Lake Highlands. Our goal was to make sure the residents interacted with us and one another, laughed a little, and had fun with a lively game of Family Feud. We achieved all those goals and more!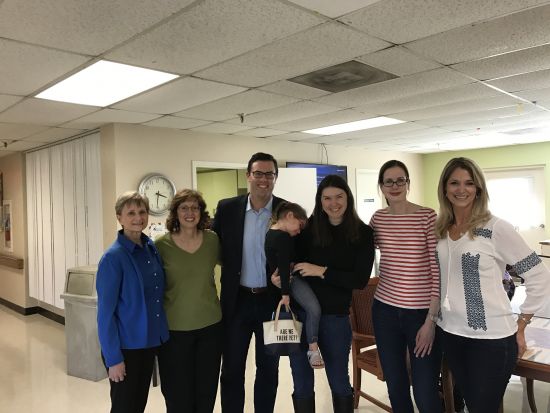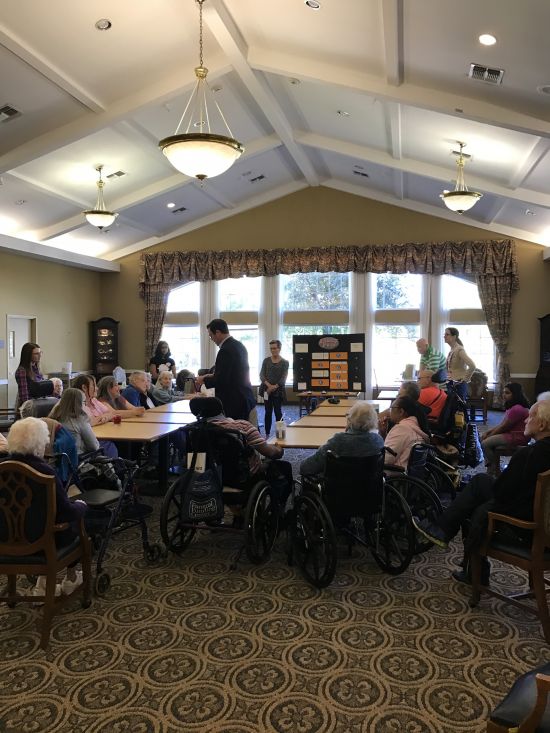 Volunteer Opportunities:
The following organizations provide DEPC members with opportunities to put their expertise to good use in addressing the estate planning related needs of the underprivileged in Dallas. Each of these organizations provides all of the training its volunteers will need to participate. Please email Teresa Moore at dallasepc@yahoo.com if you have previously volunteered with any of these organizations and would like to be listed as a contact person willing to provide DEPC members with additional information on volunteering.
Attorneys
Dallas Volunteer Attorney Program ("DVAP") - DVAP is a joint venture between the Dallas Bar Association and the Legal Aid of Northwest Texas that provides monthly "Wills Clinics" for financially disadvantaged clients. DVAP also operates a monthly Veterans Legal Clinic that gives attorneys the opportunity to provide veterans with legal assistance in a wide variety of areas, including wills/estate planning/probate matters.
http://dallasvolunteerattorneyprogram.org/
CPAs:
Volunteer Income Tax Assistance (VITA) and Tax Counseling for the Elderly (TCE) Programs: VITA and TCE are IRS sponsored programs that provide free tax return preparation assistance to individuals with low-to-moderate incomes.
https://www.irs.gov/individuals/irs-tax-volunteers
All Advisors:
Junior Achievement of Dallas – Volunteers serve as business role models and help at risk students acquire basic business skills and financial literacy through a volunteer-guided "adult for the day" exercise during which students work to develop a budget and make shopping and savings decisions based upon fictional personas.
Community Outreach Co-Chairs: Laura Brown and Carla Gale